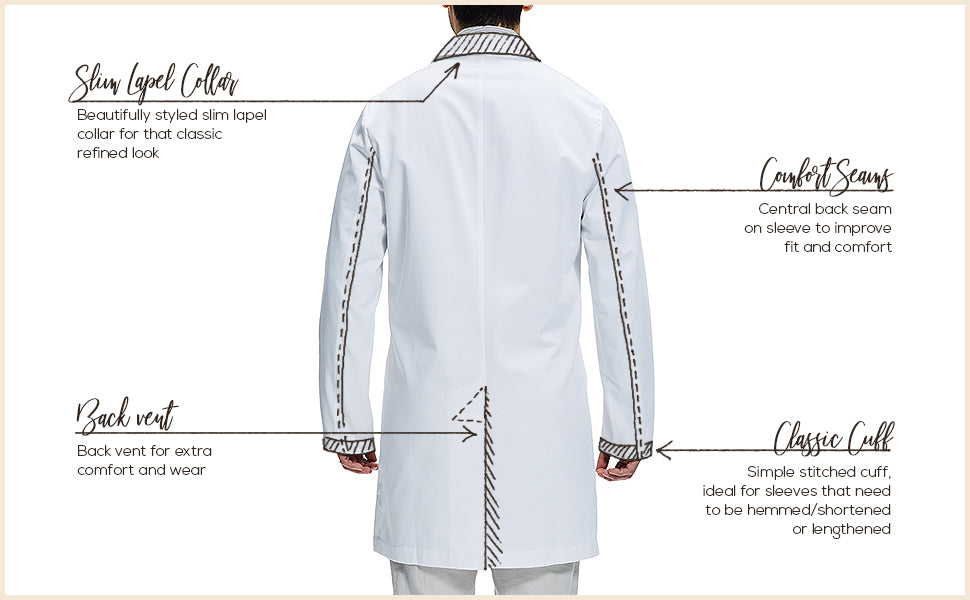 Does style in lab coats matter?
The white lab coat is a symbol—a symbol of expertise and knowledge.
By wearing one, you're essentially putting on your superhero suit, immediately looked up to as a trustworthy, distinguished and professional. Maybe you're in a medical field, maybe you're in a laboratory. Maybe you're a student, or a spa professional, or a nurse or a pharmacist.
Even spa and skin care providers have begun to adopt the white coat to protect themselves from potentially harmful chemicals as well as to take on the role of a higher scientific discipline in the growing whole-body health fields.
Whatever the setting, that coat is a symbol. And you know that, because wearing one reminds you of all you've accomplished. It gives you a sense of pride. Ever since you were a student (or if you still are one), you've imagined yourself working in that white coat.
And now that you're wearing one, questions you never thought of have come up.
How on earth do I judge a lab coat?
White lab coats have been worn since the 1800s, and today are an indispensable part of hospital and laboratory attire and healthcare settings. They boost a sense of comfort in patients, and help differentiate staff and students from other providers.
However, a lab coat is not just a symbol. A lab coat can also protect you (in fact, that's one of its primary purposes). It's a barrier between you and your clothing or skin, keeping you secure from laboratory spills and biohazards. And by protecting your clothes from trapping contaminants in their weave, lab coats also help stop the spread of contamination outside the lab or clinic.
If you choose the right lab coat, that uniform also protects you against fire. Your daily garb will be made either of cotton (which is highly flammable) or synthetic fabrics (which melt and scorch you), and that's where lab coats come in. Most lab coats today are made of a tight-weave with a tried-and-true balance of cotton and polyester to stunt fire the best a fabric can. And even more importantly, minding the buttons and style of the lab coat you go for could mean the easy-to-remove option that can be taken off if it does light up.
Finally, let's not forget about looks and style.
Let's go back to school days when you dreamed of donning the white coat. Did you always picture yourself looking good? And then, today, are you feeling like you do? Looking good no matter the workplace is more important than you might think, because the boost it can bring to your confidence (and that of others around you) is crucial in most lab-coat-wearing settings.
At Dr-James, we work around a special set of priorities. We dream up and then make designer lab coats to meet the functional needs while also branching out across the fashion spectrum. Stylish yet affordable lab wear allows you to work safely and efficiently while feeling good—and really, it's only natural for you to want that.
So, how to select a lab coat style without sacrificing function or breaking the bank? Just keep on reading, and we'll spell out the most important factors to take into consideration to select the right lab coat to leave you feeling good, looking good, and working your best.
Understanding fabric
All lab coats are made of fabric, of course. And, perhaps surprisingly, the whole industry has balanced around a relatively standard balance of cotton and polyester.
But there are some specialty lab coats out there deserving a little attention, and it's often due to their material.
Fabric has become such a fundamental part of everyday life that it would be unimaginable to go without it. It's everywhere and in many variations, and man has woven fabrics for 6,000 years. The idea of functional fabric today with more than "easy wash" or "no shrink" features, however, has taken wearable science to new heights that are increasingly relevant for wearers of lab coats.
The synthetic fabric, today making up much of the material in lab coats and so many other garments, was first successfully manufacturered by James Dickson and John Whinfield in 1941.
With the help of C.G. Ritchiethey and W.K. Birtwhistle, these British scientists created the world's first polyester. As technology progressed, microfibers would come to make polyester fabric as soft and as comfortable as silk, making it a powerful addition to the fabric world and one that has been present in nearly every part of the fashion industry—including lab wear.
But back to our topic, let's look at the features of polyester and cotton when choosing a lab coat so you can make the purchase that's right for you.
Cotton can be found on your towel, socks, t-shirts, and blue denim jeans, because it's soft and comfortable and breathes wonderfully through the fibers. In other words, cotton has all the features that polyester misses. Polyester, on the other hand, is a much more durable, cost-efficient, and chemically-resistant material.
Trying to choose one better fabric over the other won't get you anywhere in lab wear, but taking the best of both definitely will. The right combination of cotton and polyester can end up making inexpensive, comfortable and breathable items with high durability that can really protect you.
The majority of lab coat fabric today is composed of 65% polyester and 35% cotton.
A lab coat should be able to withstand laboratory conditions and accidents, but it also needs to be breathable and keep you comfortable and cool under pressure. To state the obvious, lab coats should be a lot tougher than regular daywear, because they're meant to be protective.
Selecting the appropriate material of your lab coat comes down to two main factors:
If your workplace requires

protection

and

durability

, you should probably look for a lab coat that is composed mostly of polyester.

On the other hand, if your workplace is hot or humid, and a heavy durability lab coat is not necessary, you can look for a lab coat that is composed mostly of cotton.
We have a whole article dedicated to the history, usage, and features of fabric in lab coats. Take a look to learn more about fabric.
The harder question in lab coat styles: how you feel inside a lab coat
Like we said (and as you well know), lab coats are a symbol of expertise and knowledge. By wearing one, your self-confidence can spring out of you almost like an alter ego in a superhuman suit. The reason? All your efforts and dreams as a student have manifested into the image you see in the mirror…you, inside that white lab coat.
And yes, you want to look good in that lab coat. It builds confidence. But, what does confidence build?
Psychology Dictionary Online defines self-confidence as an individual's trust in his or her own abilities, capacities, and judgments, or belief that he or she can successfully face day to day challenges and demands. And it's contagious. If you feel good, the people you work around or serve will feel good.
Self-confidence is so important because it is paired with productivity and performance. In fact, it's considered one of the most influential motivators and regulators of behavior in people's everyday lives (Bandura, 1986).
In Bandura's study on the relationship between self-confidence and motivation, a group of field hockey athletes were chosen as subjects. And according to the study's findings, self-confidence was found to be positively and significantly correlated with an intrinsic sense of motivation to accomplish things.
Conversely, the result also concludes that, when have a trigger for low self-esteem, their motivation to practice their sports falls flat.
Both looking and feeling good inside your lab coat can make a real difference in your performance. Take it seriously. Our suggestion is to look for a lab coat that has been professionally designed, not just a white coat that checks a box off a list.
But then, there's the would-be catch. With a quick search online, maybe you found professionally-designed lab coats that cost a fortune next to cheap and disposable lab coats that weren't a practical option for your work environment.
We want our doctors, pharmacists, nurses, scientists, researchers, professors, spa professionals and students to feel good. We believe in the power of looking and feeling your best, and that it's something that should be made accessible to anyone providing these services or aiding research for all our greater good.
And that's why we do what we do. Dr-James provides the professionally-designed lab coats without the outrageous prices; we provide the durability and the LABTEX-grade materials and protection; we provide tailored options for men and women, and even children.
In other words, we dress you in your super suit.
Remember…
When it comes to selecting you new lab coat, the most important two factors are materials and style.
When it comes to materials, you have two options: cotton, which is breathable and comfortable, and polyester, which provides you with durability and protection. We suggest taking the best of both fabrics and selecting an option that can both protect you and make you feel comfortable.
In addition, looking good and feeling good inside your lab coat is not only awesome but important. It can promote your self-confidence, and that goes hand-in-hand with performance. We suggest looking for a lab coat that has been created by a designer for an option that will look original and attractive on you.
Bonus—what to expect from the future of lab coats
Progress is part of human nature. If you think about our progress as a species, just think—you're reading this article from an electronic device connected to the internet, so you will understand that we are hardwired to progress.
As with the development of fabric over the years, the white lab coat will cease to exist as we know it today, giving its place to smarter, more advanced and more useful offspring. (Though it will probably still be white.)
Among the updates we can expect to see from lab and hospital wear, perhaps the biggest two are tech-friendly designs and smart fabric.
Tech-friendly designs
Some clothing on the market today is already steering toward the tech-friendly, and the idea has been around for some time.
Years ago, we started to see clothes and accessories with small holes meant to hold or accommodate devices such as headphone wires in order to listen to music while keeping your Walkman in your bag or pocket. Some jackets in recent years even began incorporating built-in earbuds in the form of hood fasteners. Other examples include touch-screen capable gloves and screen-cleaning sleeves.
The same principle can be applied to lab coats to maximize the efficiency of technology in labs, hospitals and clinics.
Appropriately, lab coats will likely change to ensure that necessary devices can be stored nearby and used at all times. One possible adaptation is a tablet-sized pocket with a snug fit, ensuring the tablet is readily accessible at all times, but never loose or inconvenient. Seeing as many lab coats on the market today that offer no pockets at all (instead, slits to access pant pockets beneath), this change could also normalize pockets in general on all lab coats, which is very important since the access slits are not useful for most female scientists and practitioners sporting generally pocket-less clothing underneath.
And how's this for tech-friendly? Future lab coats will also be able to generate electricity and charge your electronic devices stowed safely in your pockets.
Smart fabrics
From color and pattern-changing clothing to close-kept health monitoring devices, there are loads of technological advancement in fabric that might seem like science fiction now but, in fact, already exist and are close to commercial release.
These innovations can have literally lifesaving applications in medical and scientific communities, and will without a doubt be incorporated into what will come to be known as the lab coat of the future.
These tech-friendly designs and smart fabric developments are parts of a longer, fascinating article about the future of lab coats. You can read the whole article
here
.