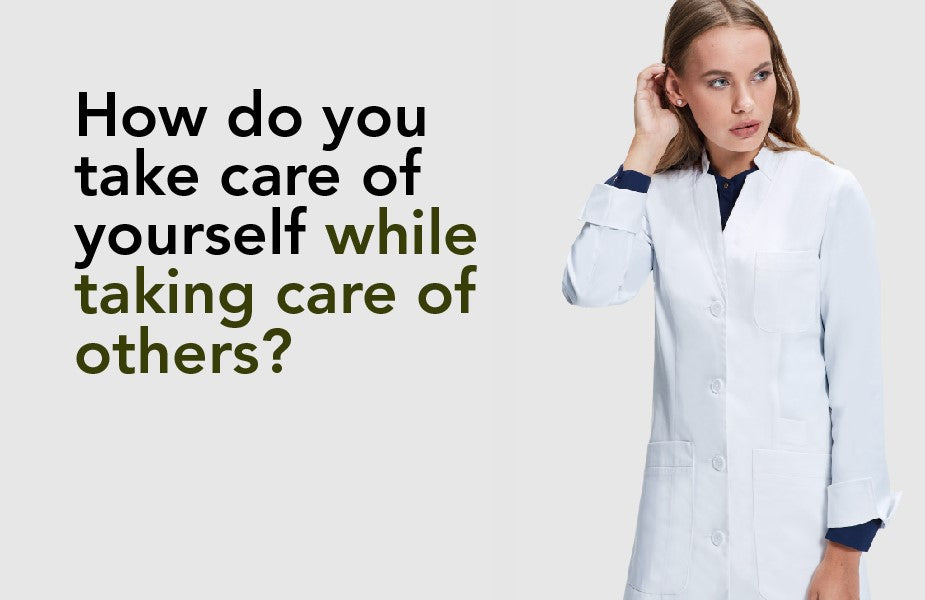 How to take care of yourself while taking care of others
Living day-to-day with COVID-19, the whole world is experiencing an unprecedented reality—along with all its consequences and implications. Whether in the laboratory or in the hospital, it's those white lab coat-wearing professionals on the frontline who are striving to remedy the situation and move us into our "new normal."
Particularly for healthcare workers, it's indispensable to take care of yourself while taking care of others.
Pointing to Maslow's Hierarchy of Needs, healthcare workers are at risk right now in one of the most fundamental areas of their own needs: safety and rest. If you're reading this article because you're a labcoat-wearing professional yourself, you know the feeling. You're going through your work days without taking the time to give a second thought to your own emotional or mental health—you simply don't have the time.
Even when you feel like time is the last thing you can spare, it's worth mapping out even a minimal amount of self-care. There are simple ways to make a big difference—and even doing something small is infinitely better than doing nothing.
Here, we've mapped out some accessible and easy options for you to keep a pulse on your own mental health, even (or especially) in the times of COVID-19.
Simple ways to keep track of—and on top of—your needs
To be operational and provide care for others, you need to think of yourself first. Without addressing your own physical and mental needs, you will not be able to care for anyone. Acknowledging this is a valuable first step to taking the actions you need to for the sake of your own health and wellness—and then, you'll be ready to practice these fundamental acts of self-care.
Don't just eat well, eat regularly. To keep enough energy flowing to your brain and body, your nutrition is not to be overlooked. If anyone knows this, it's a medical professional.

You might find yourself short on time, but for many medical professionals, in light of recent events their families, friends and whole communities all over the country are working to help as much as they can, often with organized mass preparation of ready-made meals delivered to hospitals. This is a well-deserved recognition you have no excuse to skip out on.

Take the time to feed yourself and disconnect a moment from everything the best you can. And when you do make the time, favor fruits, vegetables and healthy proteins to make sure you get what you need without feeling bogged down later.

Keep up with some kind of physical activity—and make it fun. Even though you're on the run the whole day at work, make sure you practice a little physical activity on your own terms outside of work.

Doing something physical that doesn't involve rushing from one patient to another is key to relieve your body and mind from stress, and to help you in clear your thoughts. Even going for a climb up a few flights of stairs can provide an adrenaline and endorphin boost that will not go missed when you're feeling down.

Many fitness centers are offering discounts to healthcare workers right now, too, but if you'd rather have a safer and more accessible solution, YouTube has more to offer for at-home fitness than ever. Check the 305 Fitness Channel and other channels like it to find an activity that suits your preferences.
Get information from trusted sources. We're sure you are already confronted enough with the reality of the situation—which makes it all the more important that, if you want to keep an eye on the news, you only favor those you know to be reputable sources. Getting bombarded with less informed viewpoints or malicious or careless misinformation will only add to your stress. This might mean muting a few people on Facebook, too.
Stay open to the people in your life. In your free time, make sure to keep in contact when you can with your family and friends. And don't hesitate to share your feelings or talk about how you've been feeling lately. Even when you feel most alone, there are people ready support you no matter what. Take the opportunity to check in on your relatives or friends and open up to whomever you feel even the slightest bit inclined to. You might be surprised just how eager many people are to help you.




Take time to meditate. Even if it's only a few minutes a day, it's critical to disconnect from everything for a little mental head space. Some breathing exercises and clearing your thoughts out will help you focus on yourself. If you're not experienced with meditation, there are many apps that can help you, and some of them include free access for healthcare workers. Check out the Headspace app, for instance, which offers free access to lab coat-wearing professionals through the end of 2020.
Sleep tight. You know how essential sleep is to perform at work without putting you and others in danger. But that doesn't make it any easier to fall asleep when your mind won't stop whirring. Many new apps can help you relax and fall asleep faster and sleep better, including Headspace that we mentioned above.
Plan your next enjoyable activity. The benefit of anticipating something you've planned—something you're looking forward to—helps pull you out of even the worst of your daily routine, if only for a moment. Even with social distancing and quarantines going on all over the world, there are plenty of solo-flying or online activities you can plan out. Whether that be a dinner with friends, an online wine tasting, or a group sport session, or some time doing an activity alone at home that you love, put time on the calendar for you.

What about your next trip? This pandemic will not last forever, and even without dates, you can still allow yourself the chance to dream.

Consult a mental health professional. Many healthcare and hospital workers have described these last few months as a challenge unlike any they had ever seen before or even imagined. Naturally, this has an unprecedented impact on those workers' mental health.

On MedPage Today, Jessica Gold M.D., a psychiatrist at Washington University, made the comment recently that healthcare workers are already at a higher risk of burnout and depression than those in other professions. And now, that risk has gotten to the point that resources must be made available to this population immediately.

Fortunately, many organizations, apps and health practices have answered the call. For example, Project Parachute mas made teletherapy free for healthcare workers in 37 states of the U.S.A. Make sure to check if this service or another like it is available for users in your location.
By acting on any emotional distress now, you are making your near-future easier and avoiding even bigger trauma later on. And make sure to check in on your co-workers, too when you can. We're all human, and we all have a limit to what we can take on in emotional and physical stress. It's together that we're strongest.