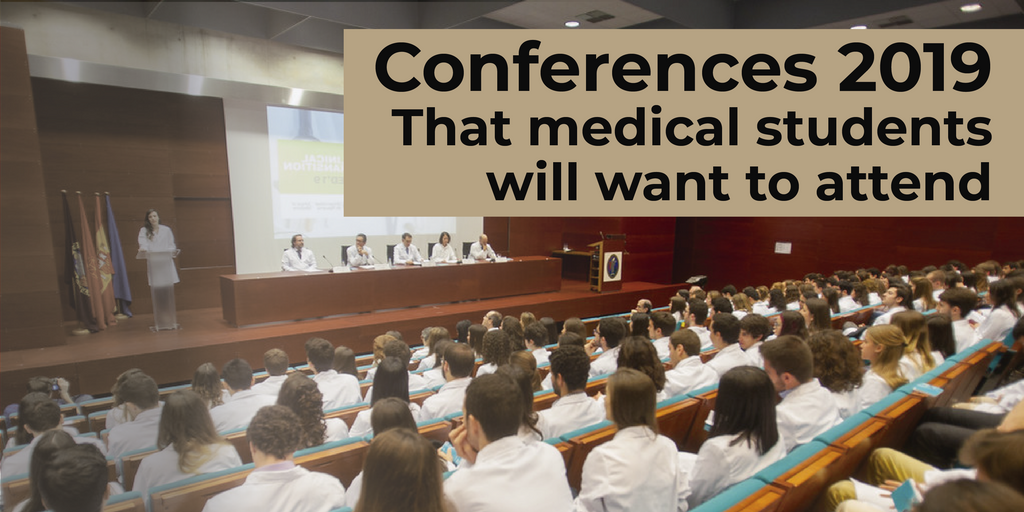 Top conferences in 2019 for medical students to consider attending
The healthcare industry is one of the most dynamic market spaces, a field changing fast and furiously with global research and tech development. These and other factors bring a constant flow of innovations that revolutionize everything from a single procedure to an entire branch of medicine—and ultimately how physicians treat patients.
First, a quick history lesson:
The healthcare industry was not always based on science. In fact, before the 1900s, not even the white lab coat (which is a symbol of modern medicine) was used. Instead, doctors were dressed in black, and the understanding of many "cures" was based on non-quantifiable things like religious beliefs.
After millennia of this, it wasn't until the turn of the 20th century that we saw this approach change. We moved closer to the modern age with things like sterilization, empirical science and growing technology in medicine. The white lab coat and everything it stands for today became a reality.
But back to our topic, as a future physician in the 21st century, it's crucial to be on top of the new developments of the healthcare industry—both for your career to progress and to the benefit of your patients. This includes being up-to-date about developments in basic, everyday equipment like your doctor lab coat (because yes, there are tech and design developments here), all the way to advanced knowledge of healthcare breakthroughs and cutting-edge technology.
These topics can be covered in one of two ways. The first is studying. As a medical student and future doctor, you're no stranger to studying and you'll never leave it fully behind you. However, another great way to stay tuned-in with the advancements of medicine is to attend conferences. Conferences will not only help you do your primary job—take care of patients—but they will also broaden your horizons, allow you to be among the first to learn about advances in medicine and technology, allow you to expand your peer network, and can also be a good chance to get in some vacation time in new places.
We're already into the beginning of the third quarter of 2019, and sever medical conferences for the year have already taken place. However, you still have time to attend some of the highest-profile medical conferences and events.
In this article, we're going to list some of the top events along with what you need to know about them. Some of these might be close to you, while others will be pretty far (and can definitely be combined with some vacationing). Let's start!
AHIMA19: Health Data & Information Conference
When: September 14-18, 2019
Where: Chicago, IL
The AHIMA19: Health Data and Information Conference is a health data and information event. The event is described as a place for education and networking, where healthcare professionals and leaders network with the healthcare community, build knowledge around the best strategies and solutions, and hear from industry innovators.
The three critical healthcare topics that the AHIMA will touch this year are:
Clinical documentation improvement
Continuum of care
And innovation
These topics will cover everything from data utilization for clinical documentation improvement and team integration and the continuum of care provision and the transformation of the quality of care through technology to AI and data exchange in the healthcare industry. This type of knowledge is a must for present and future doctors because technology will only increasingly play a role in patient treatment.
The AHIMA '19 will attract 4,500 attendees and 100+ solution providers, and will include more than 60 sessions, networking breakfasts and visits to Chicago facilities and roundtable discussions. If you want to learn more about the event, you can visit their website.
Connected Health Conference
When: October 16-18, 2019
Where: Boston, MA
The Connected Health Conference is an event that highlights personalized and evidence-based medical methods to bridge technology and the "human element" of care to improve the healthcare experience for patients, consumers and providers. The conference attracts a variety of healthcare providers, developers and innovation leaders in government and academia.
The Connected Health Conference is an event that will give you an early look in the healthcare of tomorrow. It focuses on the latest thinking, emerging applications and innovative technologies that aim to change care as we know it. You can find more information on the conference website.
HLTH Conference
When: October 27-30, 2019
Where: MGM Grand, Las Vegas
HLTH Conference is a major healthcare event. At HLTH, you will have the opportunity to hear a collection major health care players (including employers, investors, policymakers, and innovators) discussing the future of health. The critical topics that HLTH will touch this year include:
Reductions in health costs
Increases in health quality
And ultimately how to change the foundations of health
The HLTH conference will have approximately 5,000 attendees, 300 speakers, 850 CEOs and company founders, and a huge number of one-on-one meetings. In addition, it will provide multiple networking opportunities and women-specific networking opportunities. If you want to learn more about the HLTH conference, please visit their website.
The HLTH conference is a conference that mostly speaks to healthcare industry players such as CEOs and investors. However, if you want to be among the first to know about the future of healthcare and have the opportunity to network with some of the MVPs of major hospitals and clinics, the HLTH conference can be a good option.
12th European Public Health Conference
When: November 20-23, 2019
Where: Marseille, France
The 12th European Public Health Conference this year will mostly focus on public healthcare and providing care to those who are most in need—underserved immigrant populations, people living in poverty and people living under the threat of war. Moreover, the conference will also touch issues like digital health, climate change and public health, providing health to remote locations like islands, and health migration in general. Key speakers of the event will include healthcare providers, healthcare academics and chairmen of scientific and health communities. If you want to learn more, you can visit the conference website.
Beyond healthcare, this conference will also touch sensitive topics that every doctor should be aware of. If you are interested in working in the public sector, this conference is especially well-equipped for you.



Healthcare Innovation Summit Series
Place and time: September through November 2019, in various locations across the U.S. Check here for more information.
In this summit series, business leaders and academics will talk about improvements in the quality and efficiency of healthcare through IT. You can read more about the summit here.
Each one of these conferences and summits through the rest of the year will give you knowledge in different areas of medicine, but they all have one thing in common:
They will all broaden your horizons, let you know about the latest advances in the healthcare industry, and provide you with the opportunity to make some great connections.